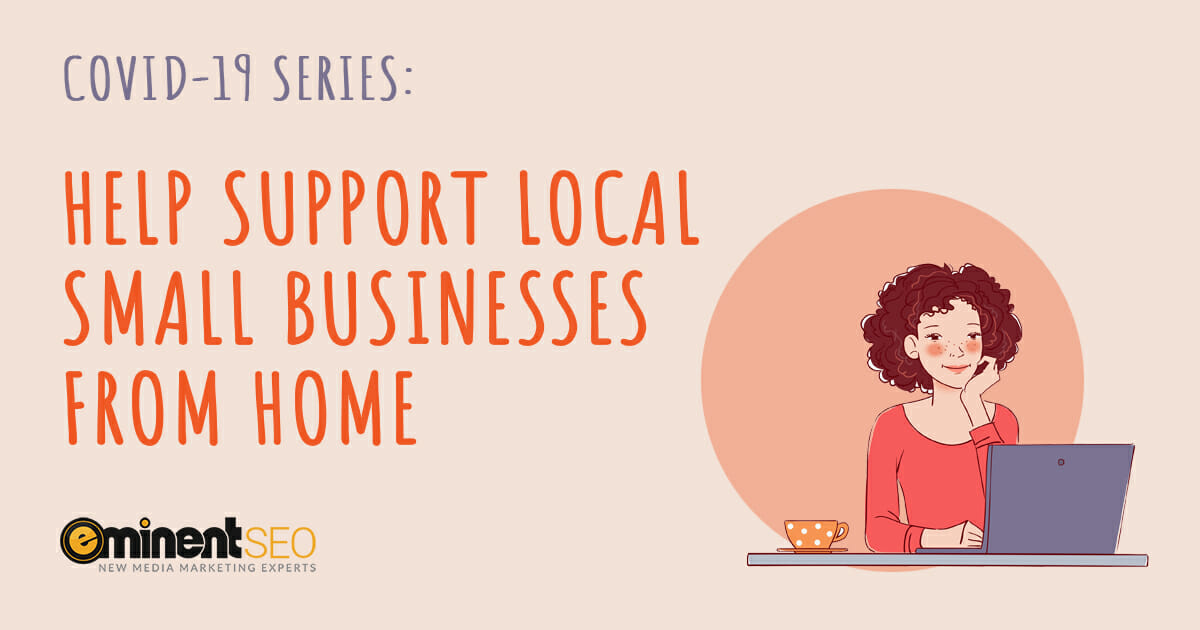 Over the course of the past few weeks, life has changed dramatically right before our eyes. With the COVID-19 pandemic hitting America hard, government officials called for non-essential businesses to close their doors. Forced to close, many small businesses founded on hard work and innovation are facing adversity like we've never experienced before.
Although it's challenging, is has also been amazing to see businesses transform within just days. Restaurants offering special menus with home delivery services, hairdressers dropping off how-to instructions and color on their clients' doorsteps, yoga and exercise studios offering virtual classes- the list goes on.
Here at Eminent SEO we work with a number of small businesses and understand how difficult it is to close your doors. However, we believe that together we will all come out of this stronger, with more compassion and innovation than ever. And, we want to help.
Ideas to Help Support Local and Small Businesses
If you also want to help support your favorite local businesses, here are some ideas on what you can do (while still maintaining your self-quarantine, of course!):
Buy a gift card from the business website. Even if their store or restaurant is closed right now, buying a gift card is a great way to show support. Remember, businesses still have expenses, so by infusing them with cash now, this ensures they can still pay their bills.
Give your favorite business a great review online. Look them up on Google, Yelp, Facebook or a directory within their niche vertical (TripAdvisor, Angie's List, Manta, even Amazon) and let the world know how much you love their brand.
Like, comment on and share their social media posts. Every major social platform has an algorithm and when you engage with a business' posts, this helps their brand get more visibility.
Subscribe to their company newsletter or blog posts and send the updates to your friends and others in the local community. Note: if you already have a paid subscription, continue paying it if you can.
Buy tickets for a future event. If you're not sure what and when you can attend, consider buying a gift certificate from your favorite event venue to be used on a future date.
Book (and pay for) a future service or lesson. If you or your children normally get haircuts, dance lessons or work with a trainer, consider booking or simply prepaying for a future appointment.
Order pickup or delivery from your favorite neighborhood bakeries and restaurants. Give a generous tip to the driver, if you can.
Shop online for your favorite goods, even if the small business has some delays. Order a custom skirt, shirt, pillow, mug, framed photograph, whatever and put your artisan friends to work.
Donations and Financial Aid
Donate what you can to a Kickstarter or GoFundMe campaign the business has setup for aid during this time. Many small businesses have fundraisers already running to help raise money to support their staff and pay for their bills.
Buy from local specialty shops over the big box stores. Call ahead to make sure they are open and next time you need essentials, go out of your way to buy from a local, family-owned pharmacy or grocery store.
Let's Work Together to Help
If you decide to support local, tell your audience (online we mean) by sharing your efforts on social media. Take a picture, share it on your accounts, tag the business and let your friends and followers know why you are posting in support and what they can do to help out as well.
We've already started the party, so if you want to work together, head over to our live posts and tag your favorite local business and how we can support them during this challenging time. @ them (or your own biz!) in the comments or DM us to be featured on our page.
Instagram Small Business Support Post
Show Your Support on Facebook Here
Community Over Coronavirus
We know it can feel hopeless in times of uncertainty. We can't control a pandemic, it's true. But we can control how we give back and support our local communities and other small businesses online. We can control our own attitudes and behaviors. If you don't have the financial means to show support, you can still reach out and check on small businesses. Say thank you and ask if you can help in any way. A simple gesture of kindness can mean a lot and go a long way. And remember… gratitude doesn't cost a thing.
Take care of one another.