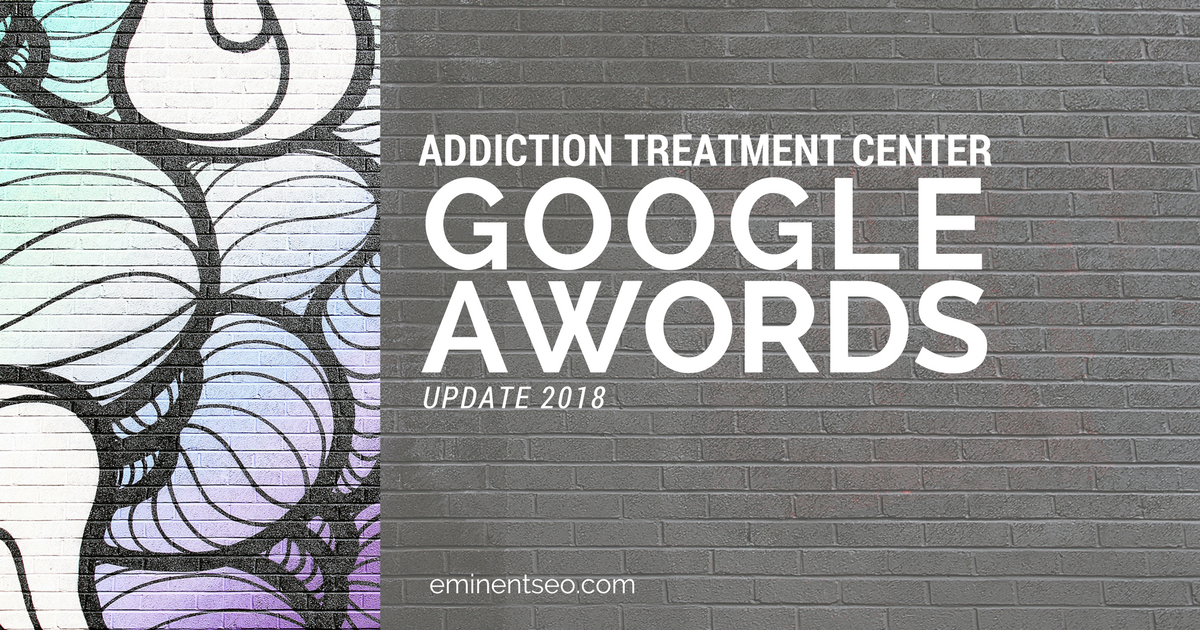 Several of our addiction treatment center clients here at Eminent SEO, and those of our partner Addiction-Rep.com, have asked us about this news: "Exclusive: Google unveils vetting process for drug rehab ads."
So far, there have been several direct questions that stem from this article, so here I will attempt to answer all of these questions. In addition, I will give some suggestions and professional insight, being that Eminent SEO is an agency that works with several addiction treatment centers and behavioral health care consultants.
Question 1: Does this mean we can bid on Google AdWords again?
Yes, kind of. Google did announce it will allow treatment centers to run ads after they have been vetted by Portland, Oregon firm LegitScript.
However, don't expect this to happen overnight. In a new article posted this week, "LegitScript's New Certification Program for Addiction Treatment Providers Will Help Those Most Vulnerable," LegitScript included an important note:
"During the first three months, we're going to intentionally take it slow. Irrespective of how many applications we receive, we'll probably only certify about 20 to 30, simply so that we can make sure and get the process right. After that, we'll ramp up the speed. (This goes into the "lessons learned" bucket from our existing healthcare merchant certification program.) This also works well with Google's timeline, since they have indicated they will actually begin allowing these advertisers in July."
Question 2: What does it take to get the addiction treatment certification?
The LegitScript website says the company is now accepting applications and that the evaluation includes criminal background checks as well as license and insurance verification. Rehabs will also have to provide "written policies and procedures demonstrating a commitment to best practices, effective recovery and continuous improvement."
They will charge $995 up front and then $1,995 annually for the vetting.
You can see the full LegitScript Addiction Treatment Provider Certification Standards here. They are not messing around. If you want to get approved, better read this first.
Question 3: What does this change for rehabs?
Up until recently, treatment centers could buy Google ads without a certification. However, over the last few years, Google has been rolling out a new vetting process for certain industries that will only allow entities to bid once they get the certification.
Before this announcement, the certification process only applied to garage-door repair techs, locksmiths, pharmacies and prescription drug providers. Now you can add addiction treatment centers to that list. From the LegitScript article, it sounds like Google will also be asking for more documentation from political advertisers soon this year as well (thank God).
Question 4: Does this LegitScript company manage the ads?
No. This is a qualification process, but the company will not be managing the ads. What LegitScript does is verify you meet the criteria and then provide a legal certificate to Google as proof. You would still need to have a professional Google PPC expert run your ads.
So, this cost is in addition to the ad management, and apparently required if you want to do Google ads in the future.
Question 5: How much will Google ads cost now?
This is still yet to be determined. Before the Google rehab keyword crackdown, the ad rates were out of control. Keywords were going for $50 to $150 a click sometimes. It was crazy!
Since the rollout doesn't come until July, all we can do is speculate. And since LegitScript is only certifying up to 30 applicants, I can't imagine there will be a bunch of competition driving up the bid rates.
Anyone care to speculate? Please add your thoughts to the comments.
Question 6: Can my treatment center get certified?
If you are a treatment facility with a valid company website, physical address, qualified staff and think can meet all of their certification qualifications, you can definitely apply!
However, it looks like the early bird gets the worm in this case. With only 30 applicants being accepted for a trial run and more than 14,500 specialized drug treatment facilities in the U.S., it may be tough to become one of the first.
You can start the process here if you're interested and ready to begin AdWords as soon as Google permits: LegitScript's Drug and Alcohol Addiction Treatment Certification Application.
Maybe the bigger question here is really: Should I get certified?
A successful Google AdWords campaign now requires a significant financial investment each month:
A LegitScript fee of $995 up front, and then $1,995 annually.
A professional setup and management fee, which could run you $500 to $5000 per month, depending on who you hire and their level of skill.
Expertly written ad messages and optimized landing pages, which could run another few thousand dollars.
Google AdWords and Display ad fees, which historically have run companies anywhere from $5,000 to $500,000 per month. That's right, I said $500 THOUSAND. These people were not messing around. I don't know what ads will run for these 30 or so accepted applicants, but I am guessing they will need a few thousand dollars, just the same.
What Does That Total?
Conservatively speaking, you're looking at $5,000 for the setup costs and at least $10,000 per month including ad fees, landing pages and management costs. I guess you could do it for cheaper, but if you think your ads will perform without expert management and optimized landing pages, you're probably wasting marketing dollars.
Ads need the right strategy to get results. It's easy to blow tons of money fast if you don't have your campaigns set up right.

Final Take
My advice? If you're not prepared to spend thousands of dollars, don't bother. There are so many other channels of marketing that you can utilize to generate qualified leads without breaking the bank. I would strongly suggest you really think through all of your options and talk with a strategist before making a decision on investing into Google AdWords again. It's a commitment.
On the other hand, if you DO have the money, this could be an opportunity for your rehab organization to come out ahead of the insanely high pre-ban bid rates.
What do you think? Worth it or naw? Weigh in below.