In order to continuing growing your B2B business, you need quality leads. Many businesses may be thinking "Yeah, if only it were that easy." We're with you on that. It's not fast and it's not easy. It takes a team of professionals who are proficient in the different areas of inbound marketing to really see results.
What Is Inbound Marketing?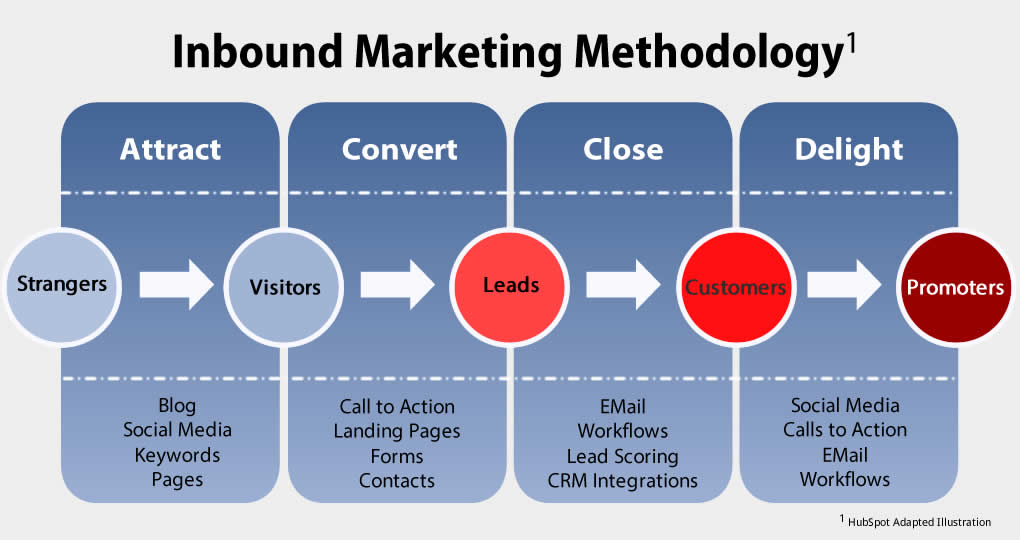 Inbound marketing, a coined phrase from HubSpot, is the process of attracting the right visitors, converting those visitors into qualified leads, nurturing those leads into customers, and retaining ongoing customers. In other words: Attract, Convert, Nurture, Delight.
Inbound marketing pulls customers into conversation via SEO, social media, blogging, and email marketing. Whereas the old techniques of marketing known as outbound marketing, interrupts customers into seeing your product or service. This comes in various forms including: TV ads, print materials, cold calling, pop up advertising, banner advertising, and more.
The Benefits of Inbound Marketing vs. Outbound Marketing for B2B Companies
I could go on about the benefits of inbound vs. outbound, but I'll keep it straight to the point.
Benefit 1: Build Long-Term Relationships
Your content is the face of your business with inbound marketing. It's what attracts those potential customers to seeing your brand and website. Your content is also the piece that's going to convert, nurture, and retain your customers. Content = communication.
Just because a potential buyer doesn't immediately call to purchase your product or service, doesn't mean they aren't researching you. In most cases, businesses are going to research you before making initial contact. They will follow your social profiles, read your blogs, and hopefully sign up for your newsletter. To justify it, you need content to build these relationships and stay in front your prospects. They will think of your brand as a trusted resource if you're pushing out quality stuff. That's ultimately what builds business relationships today.
With the outbound marketing techniques, the goal isn't to build relationships. The goal is to get the most visibility possible without keeping your ideal audience in mind. See how costs can add up quickly here? This leads us into the cost comparison.
Benefit 2: More Cost Effective
Per Hubspot, the average cost per lead is 61% lower with inbound marketing than outbound.
If you've ever done any form of advertising, you know how expensive it can be. But why spend all the money when you can create better results for less? That's a question I'm sure a lot of marketers are asking their clients.
Benefit 3: Marketing Provides Value to the End Consumer
With B2B inbound marketing, the ideal way to getting those clients is by educating them. Showing them the value in your product or service through your content. This can be done with eBooks, white papers, webinars, and speaking conferences. The goal is to get your ideal client to understand your product or service and how it will directly benefit them as a consumer.
With outbound marketing, there isn't much education done by marketers. The goal here is creating ads that will stand out over their competition. Creativity is the core strategy for ad visibility.
How to Use Inbound Marketing to Quantify Leads into Customers
Let's break it down. When employing inbound marketing to generate B2B leads, you get a much higher return on your investment. And here's what you need:
A Properly Optimized Website
This is the first and most IMPORTANT part to your inbound marketing strategy. Your website should be set up to where unique visitors can easily understand what their next steps are. When a visitor lands on a page from the search results, it needs to be relevant. It then needs to provide a call to action (CTA) leading the visitor down a path to ultimately meet their end goal. See our Landing Page Optimization Checklist to learn more.
Identify Your Target Audience
This is also known as developing your ideal buyer persona. Age, gender, geographic, industry, etc. Who is that person? When you're developing your content strategy, it's important to know who that is. That way you can tailor your content voice toward your buyer persona.
Solid Keyword Research and SEO Strategy
Keywords are the backbone of your content strategy. Ultimately the goal is to have more visibility in the search results to attract the RIGHT visitors, right? This is done with identifying keywords that are going to convert visitors into leads. Make sure your website and content marketing is making the most of these keywords.
Set Goals
In order to know if your inbound marketing strategy is successful, you need to set realistic goals. Goals that are attainable would include percentage increases like: conversion rate, visitor to lead, lead to customer, traffic increases, etc. Set milestones and expectations for your client and team.
Concrete Content Marketing and Social Media Strategy
With B2B marketing, you want to be known as the leader in your industry and raise awareness. To do so, you need a solid content marketing and social media strategy to get that content visible. Create editorial calendars that include eBook topics, blog topics, social topics, and focus keywords. This will help you stay on task with your content.
Blog frequency should be at least once per week, ideally twice per week with valuable content. Topic ideas should stem from frequently asked questions, keywords, industry news, etc. Each blog should have a final CTA and this is where eBooks and other resources strongly come into play.
When you're attracting visitors via blog posts, the best CTA for B2B, is another related resource. Ideally you want this resource to have a landing page where they fill out their information. Related sources like eBooks, white papers, webinar signups, newsletter signups, etc. can help keep those qualified visitors engaged on your site. This will lead to an increased volume of leads and increased visitor duration.
Social media is so important! Yes, even for B2B marketing. Specifically, LinkedIn which is a lead generating machine for B2B marketing. You want to be posting AT LEAST 20 times per month because it'll increase the overall visibility of your company page by posting more frequently. If you don't have a huge following, promote posts that are important such as your eBooks and blog posts. This can help increase engagement which also increases your content and profile visibility. Make sure you're targeting your buyer persona when engaging and posting here.
Email Marketing and Marketing Automation
This is the final piece to the puzzle. Now that you've done the work to attract the right leads with your SEO, content marketing, and social media, you need to convert them and retain them. Email marketing and marketing automation play a huge role in this.
Here's how it works. Someone fills out the form for an eBook on your website or blog. Upon request, you send an automated email with the link to the eBook and a friendly welcome. Now that you know what this lead is interested in (based off the content), you can gear your email marketing to be targeted to their needs. For instance, the lead downloads an eBook about "What a Website Needs to Be SEO Friendly". You're not going to email them about social media. You're going to continue sending emails with case studies, webinars, other eBooks that are related to website design and SEO. This is what keeps them engaged and where marketing automation is so crucial because you're staying in front of the potential buyer.
After a series of engagement has occurred, then it's time to email them personally and ask to set up a call to go over their needs. If they accept, that's a qualified lead that should now begin going through your sales process. Click here for tips on Effectively Selling SEO.
Why This is the Most Effective B2B Marketing Solution
In terms of B2B marketing, the ultimate goal is building relationships. Whether that's with other companies or individuals with specialties, you need to know people to get the business. One of the best ways to get to know new people is by engaging with them on the internet. There's only so many people you can meet in your city at a conference… With the internet, you can pinpoint your target demographic, connect with knowledgeable individuals, and educate them without pushing them to buy your product or service. Pulling them into conversation instead of bombarding them with cold calls and annoying ads is how you get people's attention in today's world.
Inbound marketing is effective for small and large businesses. It's where technology, creativity, and knowledge come together. Those powers can go a long way and help effectively build your brand and quantify leads online.
Like what you just read? Stay up to date with Eminent SEO by signing up for our newsletter where you can see how passionate we are about marketing. We love educating!