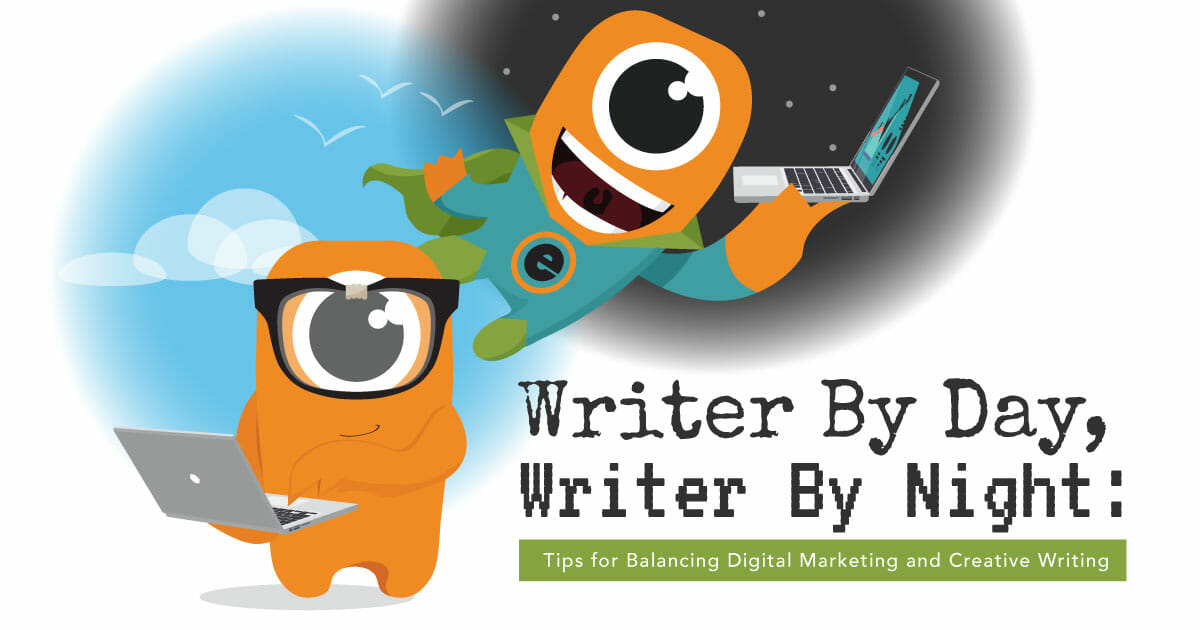 During my undergraduate years at the University of Arizona, my writing professors constantly warned me and my classmates about the risk of writing as a day job.
They cautioned us against living a double life as a writer. They told us to stay wary of burnout and losing our way as artists, suggesting that this was a very real possibility if we planned to make our living on SEO and marketing content.
I was an insufferable suck-up in class, so I nodded vigorously in response to these ominous predictions. Internally, however, my gut response to these warnings was akin to the infamous shrug emoji.
I was even less interested in hearing this advice during graduate school, when I was living the double life in full swing. It was hard to nod as vigorously as I did during my undergraduate days: I was already balancing a full-time job producing marketing content during the day with attending class and drafting my memoir thesis in the evening.
Today, as a full-time marketing copywriter and content strategist, I am still tasked with finding the right balance between my life as a marketing content professional and my goals as a creative academic. Is it easy? Certainly not! Is it impossible? My answer is an equally vigorous: No way!
That being said, I can now see that the bleak scenarios described by my writing professors actually helped to shape the very strategies I now use to stay sane and productive. The following tips and strategies are meant to help those content writers who struggle to balance their daily copywriting duties with their passion projects.
1. Use Your Downtime
A common mistake that writers make when balancing a double life is trying to separate creative and content writing into separate mental silos. Anyone who attempts these mental gymnastics for long will find that the effort is worthy of Sisyphus.
That's because we as writers only have so much control over the creative process. Ideas will come and go with no regard for your convenience. As a result, it's important to make use of downtime at the office effectively when your creative brain flips on and starts generating good ideas.
Consider keeping a notebook handy during your work day. If you have an idea, jot it down quickly before it leaves your mind and then get back to work. Likewise, make use of your breaks and lunch time to review your notebook of drafts, edit a paragraph or simply brainstorm about your next creative project.
Every bit of creative writing you can sneak into your day goes a long way toward your achieving your goals, whether they revolve around publishing or expanding your audience as a blogger. You might even enjoy your work hours a bit more when you allow your creative brain to churn out creative thoughts throughout the day.
2. Flex Your Skills
As a writer, it's very easy to see the SEO- and link-focused nature of website marketing content as a restraint on your creative process. I felt this way for years. By the time I was in graduate school, however, my horizons had expanded and I'd come to appreciate the idea of creative restraints.
Consider forms in poetry. The Elizabethan sonnet, with its strict rules concerning meter and rhyme, is a great example. Forms do constrain the writer's choices but also encourages them to think outside of their own tried and true artistic strategies.
What if you thought about SEO keyword and header requirements the same way you might think about a writing prompt or a formal assignment? Imposing limitations on the creative process not only produces results in your own writing, but can also help encourage you to exceed expectations at the office by producing some truly sublime marketing content.
You also present yourself as a prime candidate for promotion. Take it from my experience: A little boost to your paycheck will go a long way toward making you feel more comfortable about your double life as a writer.
3. Leverage Your Research
The longer you've been a writer, the more likely you are to take your inspiration from unlikely sources. Openness to the unexpected muse is a critical skill for those balancing a content marketing job with craft development in their free time.
In order to generate a steady stream of high-level marketing content for the web, one must become a very effective researcher. Most writers have experience doing research from their academic days, but deadlines and large workloads force content producers to become even more efficient at scouring the web for information.
If you find yourself short on ideas when you sit down to write at home, try expanding your research process at the office. As you scan the web for data and sources, make sure to scan your results for interesting, newsworthy or inspiring stories. Bookmark these links, then browse them in greater detail after your work day has ended. Fitting in a bit of creative research into your daily workflow will also take pressure off of yourself to put in that time when you get home.
4. Find Your Fortress

Batman has his Bat Cave. Superman has his Fortress of Solitude. Just as a superhero needs a secluded headquarters to retreat to, a writer needs a place to think, reflect and appreciate the quiet.
Considering how much time you'll spend writing for work, it's more important than ever to stay productive during your free time. Otherwise, you risk falling into the uninspired rut my writing professors warned about. With this in mind, find a place where you can disconnect from the world, including the work assignments waiting on your desk for the next morning.
After moving back home to Phoenix, Arizona, I selected my old local library as my personal bastion of productivity. Free access to high-speed WiFi, limited noise pollution and a very low chance of bumping into anybody I knew from high school made my local branch an ideal spot to spend a few hours each day reading and writing.
5. Obey Your Schedule
Another piece of advice I heard constantly from my writing professors, especially at the graduate level, was the importance of having a schedule as a writer. No pithy rejoinders here. They were absolutely correct.
This maxim goes double for writers that balance a double life. The importance of meeting deadlines at work is a given for most, but few commit the same focus to the writing they do for themselves. Unfortunately, those who fail to work on their craft consistently are at the greatest risk for letting their work writing consume their lives.
I'm sorry to say that there aren't any easy strategies for becoming a disciplined writer. It's something we all have to work on every day. Thankfully, applying some of the other strategies I mentioned above can make this challenge a bit less daunting.
Start by assigning yourself some deadlines. Identify a few hours each day that can be dedicated to writing, whether they be early in the morning or after you get home from work. Do everything in your power to obey your schedule.
You probably won't get it right all at once, but that's OK. Just setting a schedule and paying closer attention to how you choose to spend your time (when you should be writing) are major steps in the right direction.
6. Honor Your Process

It's easy to get discouraged as a writer. After all, we can be pretty sensitive. That's why it's important for you to make a habit of carrying your projects to completion. Denying yourself the internal encouragement that comes with finishing a poem or prose piece just makes it harder to stay motivated as a creative writer.
On the other hand, beating yourself up over how long it's taken to finish a novel in your spare time is not an effective strategy. Your creative process is unpredictable, and it's not typical for your free time and your feelings of inspiration to line up consistently. This is especially true when you are tasked with a full workload of blog posts, newsletters, email campaigns and content pages during the day.
Just as the style and voice of your work are unique, so too are the strategies you'll employ to balance a double life as a marketing content professional and a creative writer. As long as you are able to secure a quiet place to work, set a reasonable schedule and stay disciplined, the specifics are up to you.
In short, the double life is one worth living. Just figure out what works for you, stick to it and keep your pen on the pad.