2014 is Coming to a Close
Can you believe another year has already passed us by? It's hard to believe in less than a month it will be 2015! This year was a big one for Eminent SEO. We celebrated 5 years of business, launched a new website, expanded our client list and grew our team.
Now that December is here we are excited for the holidays. This year our team is having our annual Ugly Sweater Holiday Party again. Check out last year's December newsletter for fun pictures of the ESEO team in our ugly sweaters here. Do you have an annual company holiday party? What do you do to celebrate with your team?
Good to Know in SEO (RIGHT NOW)
Google Penguin Updated… Again:
Just a few days ago SE Roundtable posted a blog stating that Google Penguin updated, again! Although the update is still unconfirmed by Google, many webmasters are commenting about changes to their rankings – in a good way.
From Barry Schwartz on December 5th:
"On Thanksgiving day, Google started to reverse Penguin penalties (I know Google doesn't call them penalties). This was a good thing and Google actually confirmed this was part of the Penguin 3.0 rollout. Then on Thursday, those gains were rolled back for many. When John Mueller of Google was asked about it, he didn't seem to know what was going on. Now this morning, the reversals seem to have been reversed and now sites hit are Penguin free, or at least some."
What's interesting is the webmasters are mainly talking about recoveries – saying things such as:
"Since yesterday I notice sites (more than a few) that were slapped between 10 and 20 October (rankings fall 200+) are now completely regaining their rankings… So, did Penguin devalued certain links (and thus slapped all these sites) and now it's backtracking (or whatever it's called) and as such releasing all these sites?"
What do you think? Have you seen fluctuations or what appear to be recoveries? Let us know in the comments!
November Eminent SEO Social Media Roundup
Here it is: your monthly roundup of some of our favorite Eminent SEO social media posts from November. Enjoy!
"Be genius!"

"These little reminders will add color to your life. Go for it, add them, what are you waiting for?"

"T. E. A. M. = Together Everyone Achieves More."

"$100 Million: Estimated amount that Samsung spends on Facebook advertising per year, making the creator of the Galaxy phone the largest advertiser on Facebook."

"Your words define your actions… Be grateful!"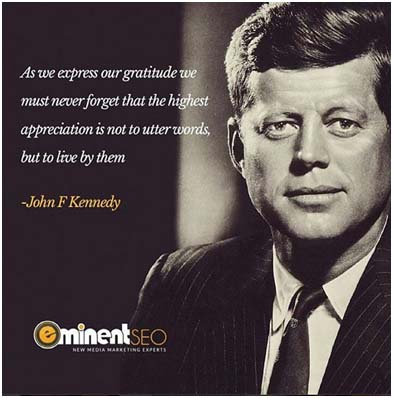 November Marketing Blog Roundup
7 Reasons Why You Need A Website Redesign
Thinking about redesigning your website? Here are 7 reasons why you should.
2015 Digital Marketing Trends
The 2015 digital marketing trends are out. Mobile, content and technology is in. Are you prepared for next year?
Why Your Website Needs a Custom Marketing Strategy
You, your business, your website, your products and services, your budget and your team are unique! Shouldn't your website marketing strategies ALSO be unique? Here are 5 BIG reasons why your website needs a custom marketing strategy.
Why Your SEO Campaign Needs Social Media
Social media and SEO go together kind of like peanut butter and jelly. When you you're missing one, you're missing out on that extra boost in reaching your target audience. Here are some reasons why your SEO campaign needs social media.
How To Use Social Media To Build Your Brand
Social media has become a primary brand building resource for businesses who want an affordable and measurable way to build their brand. Are you integrating social media into your branding strategy? Here are some tips on how to use social media to build your brand.
See Ya Online!
So long 2014… You've been so good to us! We are wishing you and yours a spectacular holiday season and a prosperous 2015!
Are you looking forward to 2015? What do you have planned for the new year? Share in the comments with us.
Until next time, see ya online!