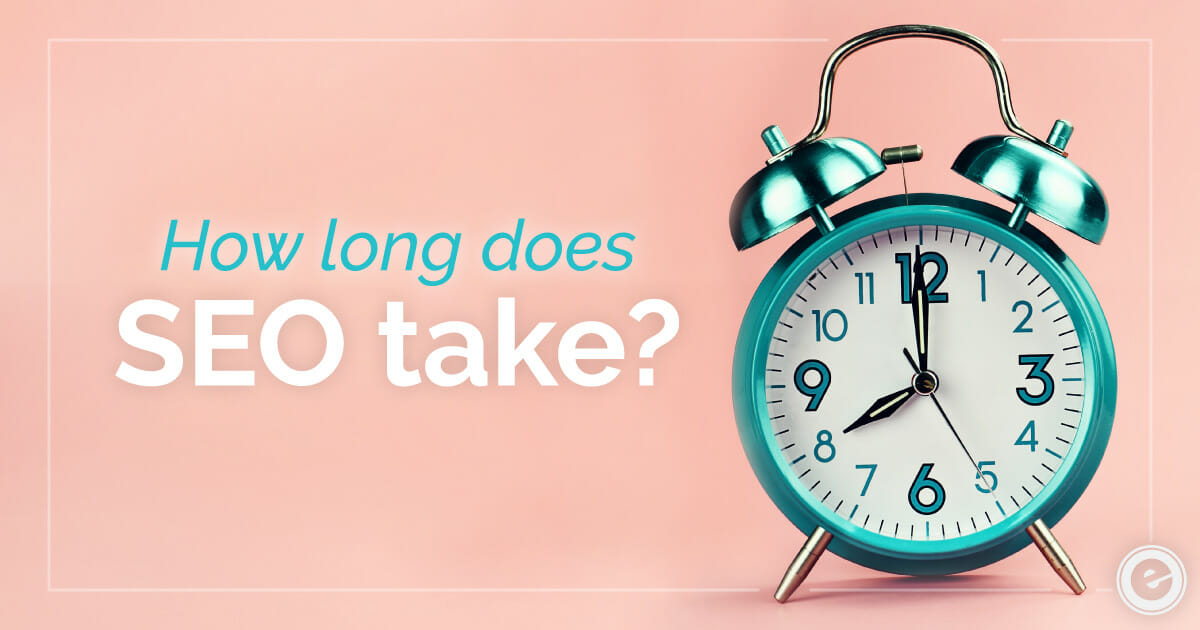 As Google, Facebook and the other popular platforms continue to change the terms of their advertising services, many who have previously overlooked organic marketing are now asking, "Can I use SEO instead? How long does SEO take, and is it worth it?"
Let's start by talking about what SEO is – and also, what it's not.
What Is SEO?
SEO, or Search Engine Optimization, is the practice of optimizing your content (website, social platforms and ads) for the search engines. We consider SEO an umbrella term for a number of different services and tactics. Primarily SEO is considered:
Keyword Research and Competitive Analysis
Before any target keywords are selected, research must be performed. If you are going to optimize your website and outrank your competition, you must understand them first. In-depth competitive and market analysis should drive the SEO strategy.
On-page SEO and Content Optimization
Each buyer type and stage of the buyer's journey should be considered first when developing the website and content strategy. Keywords should then be incorporated into well-written content and metadata. That's not all, though: On-page SEO is highly technical and includes everything from fast load times to internal linking.
Off-site SEO and Link Building
Link building or link earning, call it what you will, means SEO isn't just limited to what you can control on your website. Off-site SEO is equally, if not more, important. The process of link building is very in-depth, but in a nutshell, the goal is to get other relevant and reputable websites to link to yours. Links act like votes, and how many, where and whom they come from matters.
Testing, Reporting and Analyzing
Because Google is always changing, so too is SEO. The fundamentals are the same, but the specific tactics, tools and applications are always changing.
Luckily, SEO is a data-driven marketing method, and almost every component can be tracked, tested and reported on. By analyzing the data, you can make changes based on user behavior as well as the search engines.
What Is NOT SEO?
Although SEO is a lot of things, it's also NOT a substitute for:
High-quality website designs
Branded videos and images
Interesting content for the users
Products consumers want
Great customer service
A positive brand reputation
Trained sales professionals
All of these are needed to have a successful SEO campaign. It's all connected.
How Long Does SEO Take to Start Working?
This is maybe the No. 1 question we have received over the last 13 years or so of doing SEO. And, the answer is always the same: It depends.
Not what you wanted to hear, right?
But, it does depend on a number of different factors, including:
Age of domain and website
Number of current pages indexed by Google
Current rankings
Existing website content and digital assets
Information architecture and blog categories
Indexed website backlinks
Social media channel following
Existing competition and their websites and digital marketing strategies
Budget
If you come to us with a new website, hardly any content indexed, very few rankings, an outdated design, no digital assets, a sloppy navigation, no blog optimization, low social channel followers and heavy competition, depending on your budget, I will tell you it's going to take at least six months – maybe a year. SEO is a long-term strategy, and you have to put in the work. It takes time to gain authority with Google. You can't fake that.
However, if you come to us with a decent website and some of the foundational work done, we can speed up the process and rank a site in as little as two to three months.
It all depends.
If you have very little competition, if your keywords are under-marketed, if your competition isn't spending a lot on SEO – all of these variables work in your favor.
Real SEO Case Studies
Since it all depends, it's best to look at some real-world examples to see what is possible.
SEO Case Study #1: Transitioning from Google Ads to an Organic SEO Strategy
In October of last year, an addiction treatment center came to us with a huge Google PPC ad budget and a cost per admit that was higher than the price of treatment. We switched them to an SEO strategy right before the big Google AdWords smackdown, and now look at the data.
This SEO traffic would have cost $200K. We saved them hundreds of thousands of dollars per month on paid ads, and their ongoing SEO campaign is a fraction of the cost with a higher conversion rate.
SEO Case Study #2: Big Gains in a Competitive Niche
This client has been with us for a few years now. He also had a Google ad budget running and wanted to slowly transition from paid ads to organic SEO. He knew SEO would take time, so he continued to run Google ads while our team worked on the website SEO.
By staying true to the course, his website now dominates for all of the top terms in his niche and he no longer has to spend any money on paid ads. His organic traffic is estimated to cost almost $100,000 dollars a month if he were still bidding on paid ads. The cost of SEO is a small fraction of what the paid ads would cost.
SEO Case Study #3: New Domain and Website and Small Budget
This client came to us as a new brand. Their goal was to get online and start producing results through digital marketing. They were open to paid ads, but their industry is very limited on what they can advertise on, driving up the cost of the terms you can bid on. Due to their budget constraints, we started with SEO only.
In only three short months of a small-scale SEO campaign, we have climbed to more than 1,000 ranking keywords, showing it is possible to get organic rankings on Google in a short period of time. Of course, the site is also beautifully designed, and we've implemented expert SEO.
Is SEO Worth Investing Into?
Let's talk financial investment. All marketing costs money. The key to success is to be smart about the long-term strategy. If you simply throw all of your marketing dollars at short-term gains, you'll miss out on an awesome opportunity to develop a marketing channel that will provide a substantially higher return on your investment in the long run.
For example, let's say you have a set marketing budget. Over the first three to six months, you may see little monthly ROI. However, over the course of the full year, when you take your total sales and total marketing expenses, SEO generally produces anywhere from a 300 to 3,000 percent return on investment. That's HUGE! Any investor's dream!
Being Patient
The problem is, many new businesses didn't plan for this, and when SEO doesn't produce an immediate ROI, they become uneasy and turn to Google or Facebook for paid ads.
Google has been a powerful ad platform for many simply because it's a search engine and buyers are asking for specific products or services – placing them much further along in the buyer's journey. Problem is, some people can't afford to pay the high cost per click, and some industries are even blocked from bidding on relevant terms unless they pass a difficult certification process.
Facebook, on the other hand, is at a higher point of the sales funnel. Prospects are simply scrolling through their social feed and minding their own business when an ad pops up. It doesn't take an expert to guess that Facebook ads are harder to convert. They are definitely more affordable than Google ads, but unless you sell a product that has a social message, the click-to-website conversion rate can be less than desirable.
Then, there's SEO. Just like with Google ads, the buyer is already searching for the product or service. But, unlike paid ads, when a user clicks your listing in the organic search results, it doesn't cost you any more or less. Just one click on a paid ad can cost between $3 and $5, all the way up to $300 to $500, depending on what industry you are in. If that visitor doesn't convert, you may have just wasted hundreds (if not thousands) of dollars!
The Long Play
SEO isn't just about saving money on ads though. SEO is the foundation for years and years of brand visibility and website traffic. It's the gift that keeps giving. Once you achieve a certain age and trust with Google, you can add new content to your site and rank it almost instantly.
And, another benefit? The leads are better. Just ask anyone who has run both SEO and paid campaigns which leads convert better, and they will tell you that SEO leads, every time.
Conclusion
When you really take the time to weigh the pros and cons, it's pretty clear that SEO is a marketing channel worth investing into. Yes, it takes time…but honestly, all ad channels take time.
What sounds more strategic to you? Dumping thousands of dollars into paid ads that provide short-term gains with no residual return? Or, investing into SEO, which has proven to provide long-term value for companies through residual gains for years on end?
I know my answer.