Eminent SEO News: We Are Moving, New Hire
One month after our sixth anniversary, we signed a lease and got the keys to a bigger and better office space! We're currently in the process of moving just few miles down the road, and Mesa, AZ will continue to be our home base. If you're in Arizona, be on the lookout for an open house invite to our new office near Country Club Drive and Baseline Road.
In other Eminent SEO news, we hired a new member to our team: Steven Russo, Fulfillment Associate. As we upgrade our office space, we're going to be looking to add a few new members to our staff. Keep an eye out for those announcements in the next couple of months. In the meantime, welcome, Steven!
Steven helps manage Eminent SEO's inventory assets as well as clients' website and marketing orders. He assists with on-page optimization, website content, link building and various other digital marketing tasks on behalf of Eminent SEO and its clients.
Learn More About Steven
What's New in SEO: Major Changes to Google+ and Google My Business Pages
The redesign of Google+ appears to have left local business pages as a casualty. According to multiple reports (and simple observation of current Google+ pages), Google's social network no longer supports several features on businesses' pages. The following features, among others, have disappeared:
Reviews
Stars (ratings)
Maps
Directions
Hours of operation
Phone numbers
Some features, however, like reviews and hours, can still be seen if you come across a business in Google Search. A Marketing Land report speculates that Google appears to be giving up on encouraging small businesses to maintain a presence on Google+.
Unless your business has gained measurable traction on the the platform, you may not have to worry about continuously posting to Google+ from now on. However, all we have is speculation at this point when it comes to the future of Google+. It IS clear, however, if you have a local business (a place of business with a physical address other than a P.O. box), then a properly optimized and managed Google My Business page is needed if you want to rank higher on the search engine result pages for local search queries.
For more on the changes to Google+ business pages, check out Marketing Land's report.
November Social Media Roundup
In November, we paid homage to the month's many big events, good and bad: Daylight Saving rollback, Veterans Day, Friday the 13th, Paris attacks, Thanksgiving and more. We also chimed in on Twitter's switch from stars to hearts (aka "favorites" to "likes") that left many users fuming. Check out the best of our November social media shares from our various accounts:
Don't forget to turn back time! If you can find a way! (Except in AZ, of course) #DaylightSavingTime #EminentSEO pic.twitter.com/Qv3eUUbiME

— Eminent SEO (@EminentSEO) November 1, 2015
Okay, this just won the #Twitter debate. #Likes #ExplodingHearts pic.twitter.com/PZZxkGCZMF — Eminent SocialMedia (@Eminent_SM) November 3, 2015
Happy Veterans Day from the Eminent Social Media team! We thank all those who've served. #EminentSM pic.twitter.com/xfoDkEeuaw — Eminent SocialMedia (@Eminent_SM) November 11, 2015
Happy Friday the 13th! May all your irrational superstitions haunt you today. Watch out for Jason! #EminentSM #Frida pic.twitter.com/W2Voekkh2j

— Eminent SocialMedia (@Eminent_SM) November 13, 2015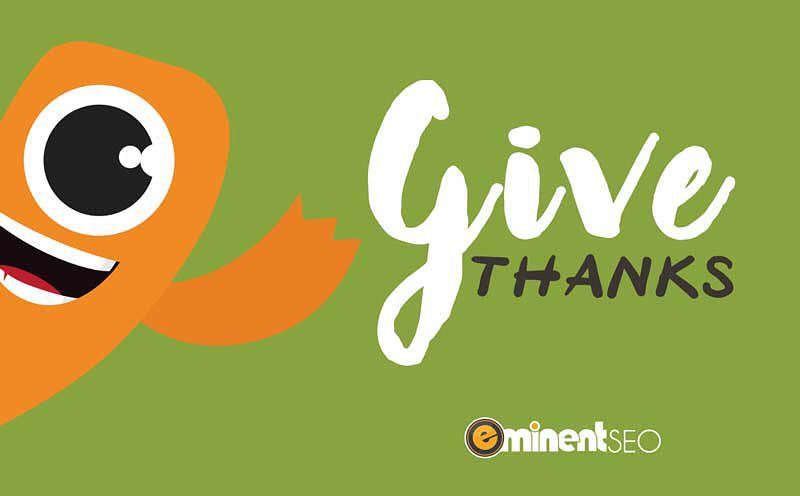 Happy Thanksgiving from the team at Eminent Social Media! Get your gobble on! pic.twitter.com/4rJqxmE6h3 — Eminent SocialMedia (@Eminent_SM) November 26, 2015
November Marketing Blog Roundup
Looking for some marketing advice that will help boost your business, particularly in the areas of social media, marketing during the holidays, and developing your brand identity? We've got you covered! If you missed out on the November posts on our Eminent family of blogs, check out the "best of" below. Also, don't forget to subscribe to the Eminent SEO blog so you don't miss out on upcoming offerings.
How to Market During the Holidays in 2015
Get some ideas here on how to make your business stand out during the holidays and tap into the spending craze. But first, take a look back at the holiday numbers of 2014 to get some ideas on where to focus your efforts this year.
How to Optimize Your Business's YouTube Videos for SEO
Is your business on YouTube? For one, it should be. Secondly, did you know there's a process to help your videos show up higher in YouTube's search tool (and even on Google)? Find out how to optimize each and every one of your videos in this article.
When is the Best Time to Post on Social Media? It's All Relative
You've probably seen several infographics that claim to have the answer to the best time for your business to post to social media. The problem is many of the infographics contradict each other or, at least, the "best time to post" simply changes every few months. The solution for you is to only worry about what works best for your company. Find out what that entails.
Should Your Company Include .com in its Logo Design and Brand Identity?
Several companies, large and small, have ".com" in their official name, and many of the most recognizable brand names got their start by doing this. See the rationale behind including a domain extension in one's brand identity, and then decide if your company is a candidate for such a rebranding tactic.
Featured Service: Organic Link Building
Even though Google has undergone several algorithm changes in recent years, the search engine still values backlinks, perhaps more than ever. However, there's an increased focus on quality backlinks, and not the sheer quantity of backlinks.
What is a backlink? It's when another website links to your website using a hyperlink within their content, making it easy for the user to hop from the hosting site to yours, if desired.
Why do you need backlinks? Google views links as votes, and when important sites link to you, it acts like a vote for your website. The more high-quality "votes" you have, the more of an authority you become with search engines.

Organic link building is one of Eminent SEO's longest-running services. We have a team of experts with many years of experience in custom link acquisition, social link bait, business citations and other related link building tactics.
We don't market your website from link farms and other low-quality domains. Instead, our team works swiftly and diligently to secure natural links from authoritative websites on behalf of our clients, which helps their sites, in turn, build authority in Google's eyes.
Click here to find out more about our Organic Link Building Services, or just call 1-800-871-4130 today!