Eminent SEO Owners Chris Weatherall and Jenny Stradling
Eminent SEO News: New Brand Mission Statement
As we look to refresh some of our processes and collateral, we have developed a new mission statement that more accurately portrays our objectives and commitment to clients going forward.
Eminent SEO's new mission statement is:
"Eminent SEO seeks to create and promote beautiful brand collateral, expertly optimized websites and well-crafted marketing messages as a means to push the boundaries of internet marketing to help companies, corporations and government agencies be more successful. It's our mission to deliver ethical, high-quality services while simultaneously working on creating meaningful relationships with our clients, partners, each other and those in the community around us."
More Eminent SEO News: June Birthdays, Work Anniversaries
We value each of our team members like family, so every birthday is a big deal to us. In June, the Eminent team celebrated a handful of birthdays as well as a work anniversary. The individual milestones we celebrated in June are as follows:
Birthday: Kirstin Douglas

Senior Account Manager Kirstin Douglas celebrated her birthday on Sunday, June 12. The following week, she went on more than a week-long vacation to Disney Land and other parts of California.
Birthday: Chris Weatherall

Eminent SEO President Chris Weatherall's birthday came on Sunday, June 19. He celebrated by going on a staycation at a high-end hotel in Phoenix. Don't ask him his age though!
Work Anniversary: Zach Ankeny

Fulfillment Manager Zach Ankeny celebrated his four-year anniversary on Wednesday, June 8. He treated himself to several vacation days throughout the month. Here's to many more years with us, Zach!
What's New in SEO: Google Kills Authorship and Top-Level Domains as Ranking Factors
Authorship and keyword-rich top-level domains: If you thought these two factors could help your website rank higher in organic search, Google says it is no longer the case.
Authorship
Google used to use authorship as a rankings bump, but according to Gary Illyes, a startup trends analyst for the tech giant, it's not even in consideration for a ranking increase or decrease.
"We fixed that problem," Illyes recently said, as quoted by Search Engine Land.
Authorship is when a webpage is marked up in the source code and attributed to an individual writer. Content from certain writers was once given more weight than material produced by other run-of-the-mill authors. This means that content attributed to popular web authorities like Neil Patel and Rand Fishkin, for example, would have a better chance at a high search ranking, just because of the name behind the material.
Well, that all has gone away, as far as Google is concerned. Search Engine Lands says Google stopped using authorship in August 2014 as a ranking factor for most forms of content. However, in-depth articles still could receive a boost due to name recognition of the author, even as recently as October 2015.
Now, in-depth articles (aka "long reads") are no longer judged by author authority, leaving a more even playing field in Google Search. Granted, some writers' names still carry more weight in readers' minds than others do, but that matters not to Google now.
Top-Level Domains
Some SEO experts have speculated that changing to a keyword-rich top-level domain (aka domain extension) could bring about a rankings boost in Google Search. However, Illyes and John Mueller of Google recently said this tactic won't specifically help with search rankings, according to Search Engine Land.
If you're not sure what we mean by a keyword-rich top-level domain, imagine if you're a locksmith and you change the ".com" of your website to ".locksmith". There was talk in the SEO world that this strategy could boost someone's search rankings. Search Engine Land even published an article about a personal injury lawyer who had his website switched from ".com" to ".attorney". The lawyer claimed his website received a large boost in traffic soon after the switch, although not necessarily due to higher search rankings.
It's unclear if keyword stuffing a top-level domain was ever a ranking factor on Google, but it certainly isn't now, according to two corporate authorities. If you've been thinking about making such a move, just be aware that it doesn't directly or instantly help you with SEO.
June Social Media Roundup
With holidays like Father's Day and Social Media Day popping up in June, we had plenty to celebrate via tweets and posts on social media. Our Instagram account particularly saw some extra traction in June. If you haven't followed us there yet, please do so now. Then, look directly below for the highlights of our Twitter, Instagram and Facebook posts and content from last month:
You got this! Positive thoughts ONLY. pic.twitter.com/yjwNvJyAMg

— Eminent SEO (@EminentSEO) June 5, 2016
Clients ask if we buy links. Anytime you buy ads that point to your website you are "buying links". Technically. https://t.co/XOJt8mJB4w

— Eminent SEO (@EminentSEO) June 7, 2016
We've been building & removing links for a long time. We want to answer your questions #AskUsAnything #LetsTalkLinks pic.twitter.com/lgz9Oj6Yfk

— Eminent SEO (@EminentSEO) June 7, 2016
@roroster & I in a sneak peek from the @EminentSEO co. photo shoot last week. You can't tell it's 117 out, right? pic.twitter.com/vublwlYXfz

— Jenny Stradling SEO (@dayofjen) June 19, 2016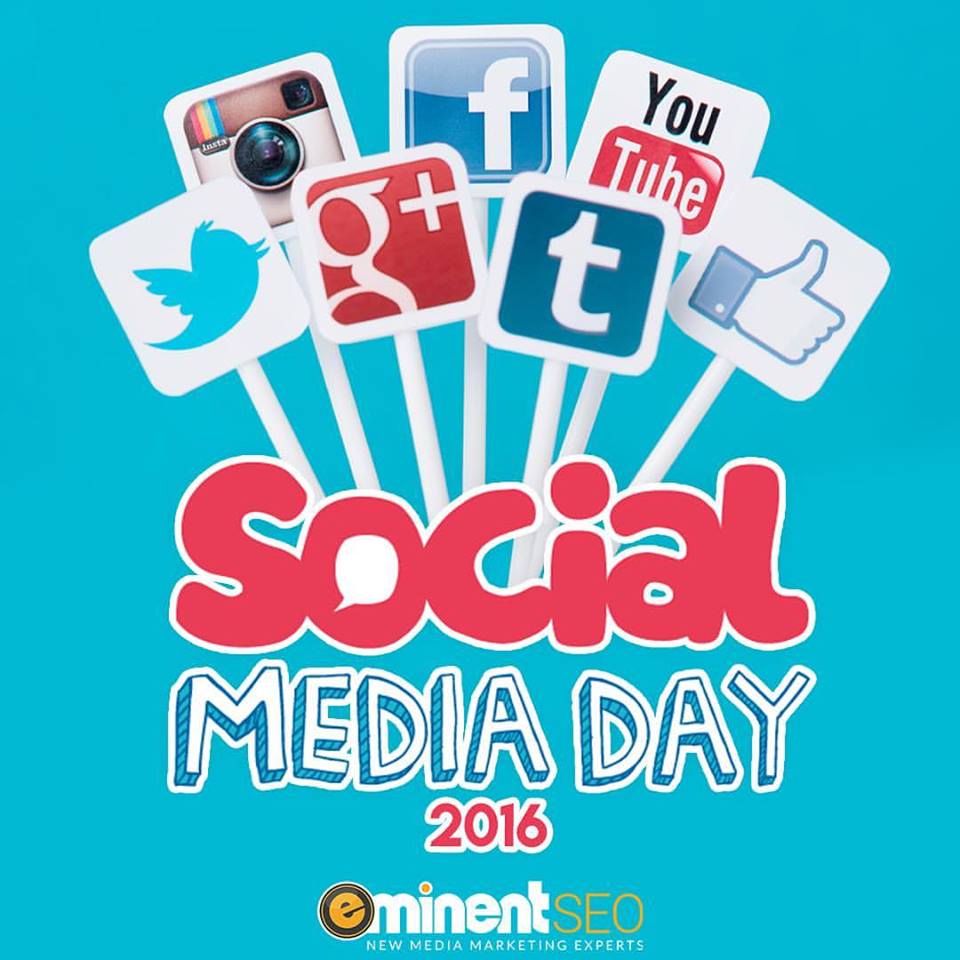 The 3 M's of #EminentSEO: We Make Websites – We Manage Websites – We Market Websites. https://t.co/19DF3dtNLA pic.twitter.com/nF3pngua75

— Eminent SEO (@EminentSEO) June 30, 2016
June Blog Roundup
On the Eminent SEO blog in June, we took a look at the future of marketing agencies like ours. We also released a plethora of tips on how to create the right social media strategy, and then we helped lead local residents to 4th of July events all over town. See a recap of our June blog posts below, and then click on any of them to dive into the full article.
Social Media Takeover: How the Wrong Social Media Strategy Can Drain Your Marketing Budget
Is your business pouring money into the wrong social media platforms? Learn how to refine your strategy and concentrate your efforts toward what actually works, or else you may drain thousands of dollars from your marketing budget.
7 Elements to Look for in an Evolving Marketing Agency – and How to Avoid Being Left Behind
The internet has drastically changed the game when it comes to marketing, making standalone agencies evolve or die. Clients expect more transparency and they're quicker on the gun when it comes to letting loose an underperforming marketing agency. So, what does the evolution of the modern marketing agency look like? Here are seven characteristics to keep your eyes on.
4th of July Events Around the Valley: Fun in the Sun
Late in June, we unveiled our first-ever directory of upcoming local events for a specific holiday. Independence Day was on the horizon, so we compiled a list of events worth attending in the greater Phoenix area, aka where our office is. Look forward to more posts like this prior to other major holidays. Cheers!
Featured Service: Landing Page Optimization
Search engine optimization helps users find your website, but landing page optimization (LPO) is what drives them to buy a product or pick up the phone and dial your number.
At Eminent SEO, every page we "SEO" for a client gets treated like a landing page. We implement keywords and enhance the content in a way that educates the user and drives them to action.
Any page on your site can be given the LPO treatment, but we can also create standalone pages (not found anywhere in the site's menu or navigation) that point to a specific offer you have. In some cases we may create a standalone landing page to split test the results against an existing page on your site with similar content.


If you're looking for someone who can create targeted, conversion-driven standalone landing pages, look no further than Eminent SEO. Don't forget we also optimize existing pages on your site as if they are landing pages that will drive visitors to buy or call. Click to learn more about our Landing Page Optimization Services, or just call 800.871.4130 today!